1992, acrylic on canvas, 93" tall x 95" wide
Nothing I do is by popular demand.
I think I did pretty well, considering I started out with nothing but a bunch of blank paper.

— Steve Martin
Painted in acrylic on canvas in the artist's Tigard studio and originally installed at the Beaverton, Oregon Hollywood Video location, this mural was reproduced and installed as photomurals in many of the stores nationwide. Awarded first place in Airbrush Action's 1993 Seventh Annual Airbrush Excellence Competition. This mural was created as the left half of a diptych – "Marilyn Monroe (Postcards from the past)" was created as the right half. These murals can be displayed together or separately.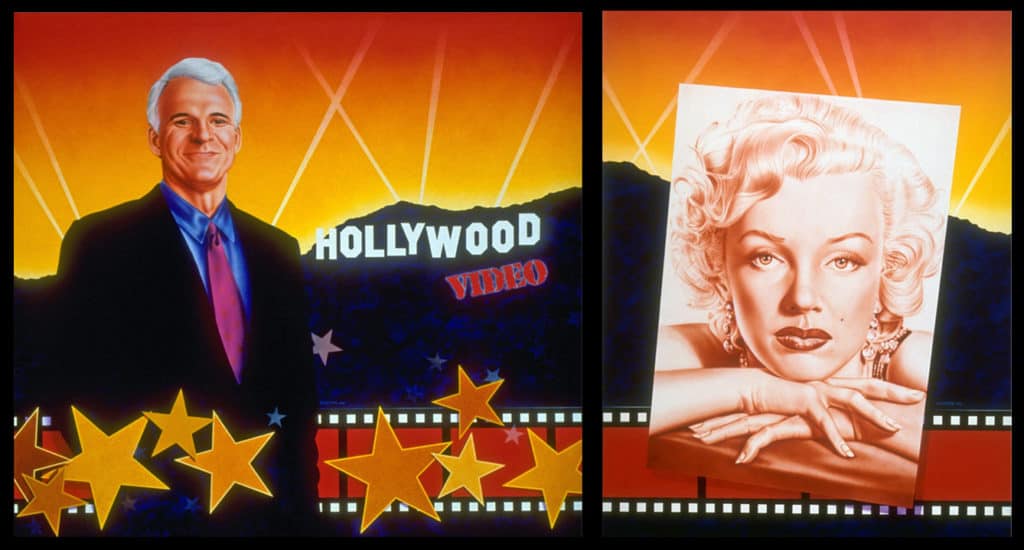 PROVENANCE:
• Airbrush Action 7th Annual Airbrush Excellence Competition 1993, Mural Category – Awarded First Place for the two-piece mural: "Marilyn Monroe" (Postcards From The Past) and "Starring Steve Martin"